Description Chalet Bergkristall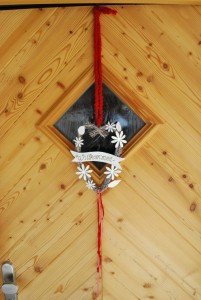 Chalet Bergkristall is a luxurious chalet of approx. 125m2. It is built in 2013 by Holzbau Maier, a well recommended building company located in Bramberg, well known for its solid and  authentic "Tirolian"-style of building and that built many Chalets, Hotels en Houses and apartments across Austria.
Many of them in Tirol and Salzburgerland in villages like Königsleiten, Krimml, Wald, en since 2013 also in Bramberg itself.
This luxurious Chalet is situated in Grünerstein, with south orientation and within approx. 100metres of the new SmaragdBahn ski lift, that brings you directly in tot the Wildkogelarena ski are. The Chalets has 2 two floors (called Erdgeschoss and Obergeschoss) covering 5 bedrooms, 4 bathrooms wit hall comfort and luxury for a relaxing and pleasant stay.


On the first floor (obergeschoss) the livingroom and ktichen are situated, together with 2 bedrooms and a bathroom
Living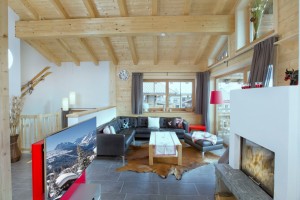 The Livingroom (~38m2) is spacious and practical with a seating area with sofa and footstool, a central fireplace and a large customized Austrian dining area with large table, Austrian bench  and enough chairs. Here you can have breakfast diner etc.,  but it's also very suitable to play a game or sit with your laptop (there extra sockets under the bench).  The fireplace has a glass screen, allowing you to enjoy safety and with all comfort. Also central is the flexible TV stand with Smart LED TV, covering all regular channels, but also ASTRA channels satellite connection (Canal Digital). Next to that it's connected to internet for YouTube or your own Netflix connection (Netflix not included).
By easy turning the stand you can watch in the dining area as well.
The house is equipped with free internet which everywhere can be used via Wi-Fi or even via television.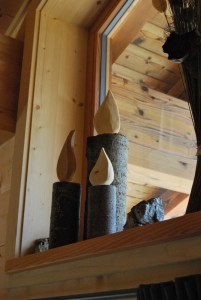 The living room is equipped with adjustable heating and large windows for great lots of light, with patio (turn-tipping) doors to the balcony which is around the living room and kitchen and master bedroom on this floor.
There is a stair gate so that children enjoy and can play safely in the living room. The stair (retract-a-gate) is unique in design and easy to use (by adults/parents,  that is).
The Kitchen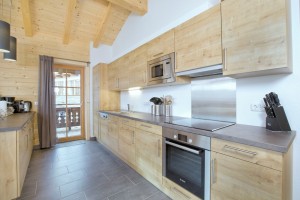 The kitchen is spacious with lots of nice cupboards space and equipped with a large refrigerator, a large separate freezer, a dishwasher, ceramic hob with fan oven, separate microwave, coffee-filter coffeemachine, Senseo and Nespresso coffee machine, kettle, toaster iron, mixer, blender, toaster, egg cooker, juicer. There is a large inventory of cookware, crockery and kitchen utensils and additionally plenty of extra space for your own groceries for an easy and comfortable stay.
Balcony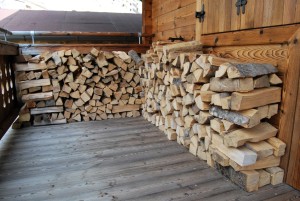 Both the living room and kitchen have access to the spacious balcony with beautiful views. On the balcony there is also a wide seating area where you can enjoy the view. On the balcony is a spacious sitting area / balcony-set where you can always enjoy, dry and covered. the cushions of the balcony furniture are stored next to the balcony door for easy use.  On the balcony there is also a stock of firewood for immediate use. A large inventory is always present in the gazebo.
Bedrooms on first floor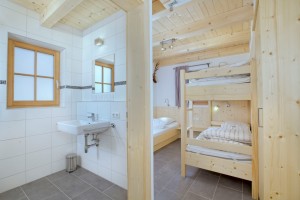 The first floor has two bedrooms and a bathroom in the so-called "Familienzimmer"-format: A double bedroom and a bedroom with a single bed and bunk beds combined with a bathroom as a sort of studio. The bathroom has a shower, sink and toilet. The double bedroom has access to the balcony.
All bedrooms and bathrooms have separated underfloor heating with individual thermostat so you can adjust everything to your own liking and comfort.
Bedrooms on ground floor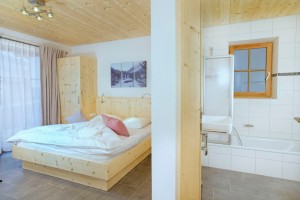 On the ground floor there are 3 double bedrooms and 3 bathrooms.
Two bedrooms with double bed (two times 90×200) with bathroom en suite. (One bathroom with shower, toilet and sink and a bathroom with bath, toilet and sink). Both bedrooms have custom made beds and cupboards with ample storage space. In both rooms there is enough space to place a baby bed (there is a baby / camping bed present in the house)
Both bedrooms have by turn-tilt doors to the south facing terrace equipped with sun-lounger, called Schaukel liege)
All windows have shutters in case you want to sleep out (especially in summer).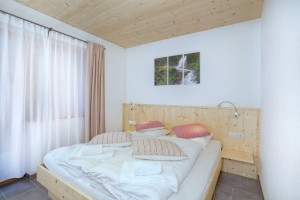 One bedroom with double bed (two times 90×200) and large wardrobe with sliding doors. This bedroom also has a tilt and turn through door access to the terrace on the southwest. This room has a separate bathroom, which is accessible from the hall. This bathroom has a shower, toilet, sink and also has a sauna (small sauna – for 2 people).
All bedrooms and bathrooms have underfloor heating with individual thermostat so you can adjust everything to your own liking and comfort.
Utility room, hallway and storage cabinet
Also located on the ground floor you'll find the technical utility room with washer, dryer and condensate ski boot heater to dry your ski boots or shoes in the afternoon and warm them for you in the mornings before going skiing. Here is room for 12 pairs (ski) shoes. Also located downstairs cloakroom, with enough hooks and mounting options so everyone his coat and the like can hang easily. Hats and helmets can be stored on top of the rack or on top of the cupboards in the bedrooms.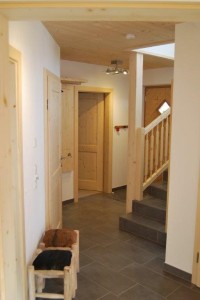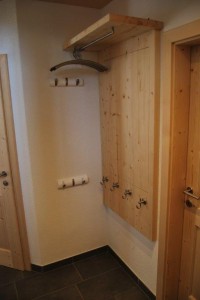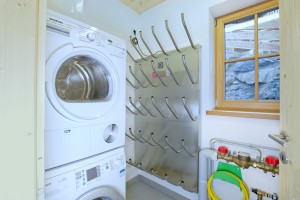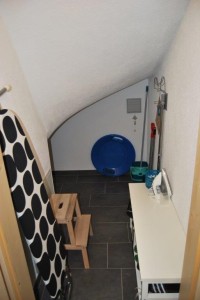 The lobby / entrance has underfloor heating with its own thermostat.
Furthermore, there is closet with ample storage space where the child / baby accessories available such as a cot, baby bath, baby chair etc. , and also the vacuum cleaner, iron, ironing board are here, and a shoe rack for your regular shoes, boots and or snow boots so that they are properly stored.
Carport and summerhouse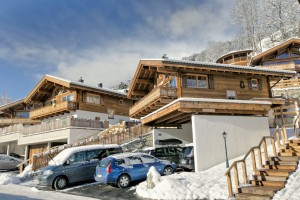 The chalet has its own carport directly on the house. This is extra wide and extra high so 3 to 4 cars can easly park directly on site at the chalet.
In the carport you will see a large ski wardrobe for 10 pairs of skis and poles which can be locked with the same key as the chalet itself, so you do not need to use separate keys. Your skis are stored dry and safe and you do not need to wear them up or take inside.
Access to the chalet is covered, so entrance is always dry.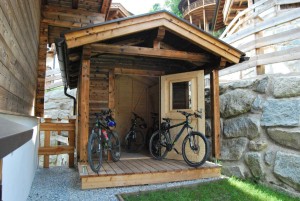 Chalet Bergkristall also features a separate shed/gazebo.
The gazebo is locked with the house key, so no extra/separate key required. In the gazebo you will find additional supplies for the winter such as snow shovel, snow plow and broom and extra wood storage for the fireplace. For the summer you can find additional garden furniture.
The shed is ideally suited for additional skis and snow boards, to store toboggans or sleds in a dry and safe way, or to store your bikes (not incl.) in the summer.
Grünerstein, an absolute must for a luxurious and relaxed holiday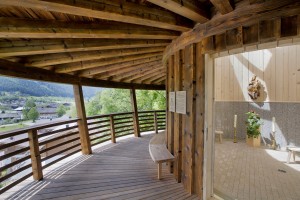 The chalet is part of the plan Grünerstein. This plan is specially designed and devoped by mr. Maier as director of Holzbau Maier in conjunction with the 'Smaragd bahn'. As a tribute and in memory to him thre is abeautiful chapel included in the plan.
From the balustrade of the chapel you will have a breathtaking view over the village and the valley. Chalet Bergkristall is one of the few houses in this plan with its own carport directly located next to the house, and it's one of the houses that is closest to the ski lift. In less than 100m, you are at the Smaragd Bahn.
This is an absolute must for a carefree vacation! An ideal property for multiple couples or families with children. Enjoy skiing or sledding right behind the Chalet in the Wildkogel Arena or in the surrounding areas as the Kitzbühel Alps or the Zillertal Arena. Within 5 to 10 minutes you can reach the station of the panorama-bahn Hollersbach which takes you directly to the large ski area in the Kitzbühel Alps.
In the house smoking is not allowed (there are ashtrays on the balcony). Also pets are not allowed and all bedding is made off anti-allergic material for a comfortable stay for all.
For immediate holiday feeling from the start, your beds are made when you arrive. And you can arrange a bread delivery service for breakfast on the spot with the local Backer-Konditorei Daxenbircher, simply by phone.