About us
Chalet Bergkristall is privately owned and built in 2013. After more than 25 years of holidays in Austria, we have chosen to buy this chalet and with this experience we have designed furnished the chalet. It was built by the company Holzbau Maier, a renowned construction company from Bramberg which built many chalets, hotels and holiday homes already. Throughout Austria, e.g. in Tyrol and Salzburg in villages like Königsleiten, Krimml, Wald, and since 2013 also in its hometown Bramberg itself.
The Cha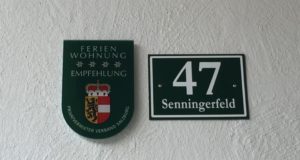 let is rewarded by Privatvermieter Verband Salzburg with the highest classification of 4 Edelweiss.
"Nur für erstklassige Betriebe vorgesehen. Garantiert geschmackvolle und sehr komfortable TOP-Ausstattung."
Chalet Bergkristall distinguishes itself with this personal, luxurious and practical construction, design and equipment. We make every effort to make your stay as pleasant and comfortable as possible.